Food, Art & Philanthropy serve the palate
NIDHI GUPTA | 28th Sep 2013
http://www.sunday-guardian.com/young-restless/food-art-a-philanthropy-serve-the-palate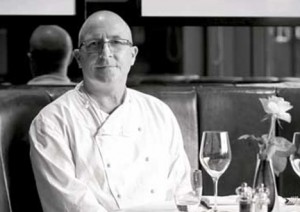 Michelin Star chef Roger Pizey
Gastronomy has found new currency all over the world in the past few years, and one can't be sure if it is Masterchef or Instagram or both that should be given credit for this phenomenon. Food has found itself transformed into an art form, where it must be as satiating to look at as it is to taste.
Endorsing gastronomy's enabling capabilities is Anand Kapoor, founder and director of the Creative Services Support Group (CSSG), an NGO that seeks to bring about a cultural exchange between India and the UK. Set up in 2011, the primary goal of the initiative is to help underprivileged youth from India gain skills and employment in the creative sectors, where degrees and long-term training are not a pre-requisite.
To do this, they've been organising annual summits where they bring experts from diverse fields to provide the youth with insights into their area of interest and also help raise funds. And so far, culinary arts have played a leading role in this endeavour. While last year's summit focussed solely on food, with six Indian and foreign chefs participating in a three-day event, the 2013 edition is bigger in scale and scope, blending food, art and music.
"We realised last year that gastronomy is a key sector— not only is it seeing a much larger interest in the field but it is also clearly a suitable arena where youth can be employed. At the same time, we also felt that treating creative sectors as independent of each other doesn't make sense anymore. Chefs work on making food visually appealing all the time, and artists draw parallels from cuisines and food politics too," observes Kapoor.
This year's edition, starting on 30th September, has nine Michelin starred chefs from the UK and Australia – including Frances Atkins, Ian Curley, Mark Best, Alyn Williams, Michael Wignall, Roger Pizey, Laurie Gear, Marcello Tully and Fernando del Cerro – participating in a week-long event that will include school visits, special dinners and master classes with the chefs. Also in the loop are Indian chefs of note like Ritu Dalmia, Jatin Mallick, Micky Boite, Avanti Mathur, Manish Mehrotra, Nira Singh and Sabyasachi, who will be creating art installations out of food.
We realised last year that gastronomy is a key sector — not only is it seeing a much larger interest in the field but it is also clearly a suitable arena where youth can be employed — Anand Kapoor
In terms of art, students of the Delhi College of Arts will put up interpretations of food cooked by the nine Michelin starred chefs; while installations by artist Carl Warner and French group La Cellule will be flown in for the occasion. CSSG will also launch a book of recipes and food delights in collaboration with Om Books, with inputs from noted chefs like Anjum Anand, Vineet Bhatia and Vikas Khanna, among others. There will also be live opera by Glyndebourne over chef dinners, which are fundraising events, the proceeds of which go to training young individuals in their choice of creative arts.
"We are an open organisation – we work with other NGOs like Gitanjali to see our aims through. Over the last year, we've managed to train and place about 10 young people in institutions like Chez Nini and L'opera where they're flourishing. It is a small number, but is set to grow," notes Kapoor.
In India, it is a strange paradox that creative sectors, despite having an all-pervasive presence in contemporary life, are not seen as the first choice of employment. Instead, for the majority, they're perceived as risky and unsafe, ventures which may not finally pay out. But, as Kapoor points out, this mindset is definitely changing. "Through our school visits, for instance, we attempt to give kids from both extremes, a window into what it might be to lead a chef's life. Young people of all ages are thinking differently and it makes sense to allow them the possibility of turning their dreams into realities in the long run," he says.