Letters by teens decry gender discrimination
The Hindu | 2nd April 2015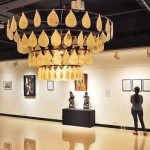 http://www.thehindu.com/news/cities/Delhi/letters-by-teens-decry-gender-discrimination/article7059880.ece
Show based on Maya Angelou's famous collection of poems — "And Still I Rise"
Teenagers from across the world have penned their thoughts on letters bringing to light gender injustice and expressed their visions and dreams of how they wish to rise above it to achieve success.
The handwritten letters are on display at a show, titled "And Still I Rise", that uses art and the written word to curate an experience that makes the viewer stand up and take notice.
The exhibition hopes to encourage women to rise above difficult situations and discouragement, and raise awareness about gender discrimination and the impact of gender stereotyping on limiting opportunities for women worldwide. The exhibition aims to create a bank of over 200 letters of voices of the future.
The exhibition features a short film in which actors like Lillete Dubey, Shabana Azmi, Dia Mirza, Aditi Rao Hydari and Konkona Sen Sharma are joined by women who broke the shackles of gender stereotype to rise despite all difficulties.
Complimenting the letters and the video are the works of a number of artists that help reinforce the power of the written word across languages and cultural realms.
Indian artists showcasing their works at the exhibition include Banoo Batliboi, Manil Rohit, Nandan Ghiya, Pratul Dash, Princess Pea, Qamar Dagar, Saba Hassan, Sachin George, Samit Das, Puja Bahri and Vibha Galhotra. The international artists whose work is on display include Eva Pacheco (Spain), Katharina Poggendorf-Kakar (Germany), Louise Gardiner (United Kingdom) Felicia Murray (U.S.) and Natalia Ludmila (Mexico).
The show has been curated by Anand Kapoor and Elizabeth Rogers for Creative Services Support Group, based on one of Maya Angelou's most famous collection of poems — "And Still I Rise".
The exhibition is on at the Instituto Cervantes on Hanuman Road till April 12, Tuesday to Friday from 3 p.m. to 7 p.m.