In letter and in spirit
Pooja Chaturvedi| 26 March 2015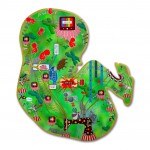 http://www.livemint.com/Leisure/VThm3TkYjQz6Ze06QoYCWO/In-letter-and-in-spirit.html
An exhibition of open letters—teenage girls from India and other parts of the world talk about their hopes, dreams and ambitions
"I am a bit worried right now," says New Delhi-based Jahnvi A. Nagpal in an open letter to the world. "I want to be an inspiration to the world, but it might not happen because I am a girl." Nagpal wants to become a doctor, or "someone who could help others".
In another open letter, Palak Kapoor, also from the Capital, wonders why there is so much societal pressure when it comes to women and their career choices. "For example, a girl wants to become a model but her family members say that they can't allow it. Why?" she asks. Kapoor wants to be a fashion designer.
These letters are among the 66 open letters that will be on display at the And Still I Rise exhibition, starting this weekend in the Capital. The show is being organized by New Delhi-based non-profit Creative Services Support Group (CSSG). "These letters might seem angry but, at the same time, they tell us that all these girls want is the freedom of choice," says Anand Kapoor, founder of the CSSG. The organization has been collecting open letters from girls aged 15-19 in India, the UK, Mexico, Abu Dhabi, Australia and China since November, and has about 200 letters now. "We contacted schools in India and abroad and the letters were shortlisted on a first-come, first-served basis," says Kapoor, who has co-curated the show with Elizabeth Rogers, a New Delhi-based art historian. "The idea is to bring out the similarities and differences, the hopes, dreams and ambitions, with a focus on the evolving role of the woman in the future," says Kapoor. "It's amazing to see how a girl in China feels the same about gender roles and society as a girl from Delhi," he adds.
In a letter addressed to the "Dear Indian Girl", Hang Zhou of China writes about how she observes gender discrimination in her nation too and how girls in India should fight back and realize their dreams. "In the meantime, you can plan what you like to be," she writes.
The show will also feature artworks on gender discrimination by 11 Indian and five international artists.
New Delhi-based brothers ManilRohit will showcase The Rigged Lottery which, through the image of a female foetus, depicts how "women are just a game in the large circus created by men. The painting might seem happy because of the use of bright colours. The message, however, is slightly darker," says ManilRohit's Rohit, who uses one name.
And Still I Rise will also feature a video of 30 women reciting Maya Angelou's poem And Still I Rise and reading the letters—the list includes educationist Abha Adams, dancer Aditi Mangaldas, actors Aditi Rao Hydari and Dia Mirza, taxi driver Omkari Devi and acid-attack victim Soniya (who uses one name).A documentary featuring actor Shabana Azmi will discuss the issue of women's empowerment. Kapoor will also conduct a set of workshops where children from the Capital—both boys and girls—will explore and discuss gender equations in society.
And Still I Rise will be held from 28 March-12 April, 3-7pm (Tuesday-Friday) and 11am-8pm (Saturdays), at Instituto Cervantes, 48, Hanuman Road, Connaught Place (43681907).